WHO WE ARE
We are a neutral, open and global business and policy platform for the energy transition with more than 140.000 users. Set-up as a multi-channel network (online, social media, newsletter, magazine, events) and founded in 2011, EEIP has evolved from its original focus on industrial energy efficiency to now cover the entire energy transition ecosystem. To finance our operations, we are running an EU project office and B2B platform services.
While operating in a dynamic start-up mode, as a small team we enjoy working in an open, flexible and entrepreneurial environment.
WHO WE ARE LOOKING FOR
EEIP is currently looking for a Communications and EU project manager to work on
EU Project 1: Representing, managing and coordinating EEIP activities;
EU Project 2: Supporting EEIP activities;
Additional: Contributing to the general mission of EEIP.
About the projects
EU-funded projects are part of our daily activities at EEIP. The role sought for would cover not only communication, dissemination and exploitation actions but also business-related development (e.g. market analysis for project take-up), stakeholders engagement and policy-related activities, in multiple energy-related areas of work. The ideal candidate would be mainly responsible for project 1, which aims at a) enabling companies towards energy transition, b) supporting development and implementation of EU policies on energy efficiency and c) enhancing project take up after its end. The ideal candidate would also contribute to the implementation of project 2, whose main objectives are a) support of Energy Intensive Industries in the identification and integration of renewable energy solutions, and b) transformation of the EU industrial landscape towards renewable energy with appropriate frameworks.
YOUR TASKS
A) Communication and dissemination activities
Development of and contribution to the communication and dissemination strategies and plans of the project(s);
Building on our social media activities, creation of social network campaigns (in particular for Twitter and LinkedIn), visual and textual development of content, sharing and tracking of activities (monitoring, analysis and recommendation for continuous improvements) and contribution to creative brainstorming for activities;
Monitoring of relevant content (climate and energy policy news);
Coordinate communication and dissemination actions among project partners.
B) Communication and dissemination outputs
Manage, produce and contribute to the production of communication outputs such as visual identity, websites and social profiles, videos, online and offline materials (templates, leaflets, roll-ups, posters, fact-sheets, info-graphics, press releases, publications, articles, reports, etc.).
Production, distribution and monitoring of periodic project newsletters.
C) Event organisation and management
Organisation and management of knowledge transfer activities: webinars, workshops, conferences and project-related events - e.g. find location, manage budget, promote the event, follow-up with attendees, report, etc.
Monitoring of dissemination opportunities (e.g. EU info days);
Coordination of participation and organisation of events among partners.
D) General and administrative
Participation to project meetings (online and physical);
Preparation of deliverables and reports to the project coordinator, to project partners and to the funding bodies;
Ensuring the implementation of projects towards time, budget and quality;
Communication and mediation with partners on project progress and implementation;
Keep the contact database up-to-date.
Additional
In addition to the work around projects, the ideal candidate would also contribute to the:
Identification of relevant calls for proposals, proactively promoting the participation of EEIP (incl. initiating proposal preparation process, drafting and budgeting);
Contribution to the daily activities of EEIP.
YOUR PROFILE
At least 3-year relevant working experience in EU funded projects, ideally Horizon 2020 and in the energy-related sphere (e.g. industrial energy efficiency, renewables, policy);
Experience in communication, dissemination and event organisation and management;
Understanding of energy and sustainability topics, and knowledge of EU and international climate/energy policies;
Interest in and experience of social media platforms and analytics;
A minimum of an academic degree (Bachelor's or ideally Master's level);
Proficient usage of written and spoken English, in addition to professional knowledge of (at least one) another European Union language(s).
Knowledge of Adobe Creative Suite products, such as InDesign, Photoshop, or Illustrator, or equivalent, would be an advantage - and good eye for design, layout and typography;
Knowledge of event management software (e.g. EventBrite)
Strong computer literacy;
Strong organisational skills and ability to handle multiple tasks, to meet tight deadlines, to work independently and to show initiative;
Willingness to travel, when required (up to two times per year);
Possession of the legal right to live and work in Belgium.
WHAT WE OFFER
Contract status: Open-ended contract, part time 50% (CDI). Option to increase in case further projects awarded
Contract start: 1st September 2020;
Highly flexible and adaptable working schedule (days, hours, office, home office);
Competitive salary and additional benefits, e.g. lunch vouchers, public transport
A multidisciplinary and multicultural working environment within an organisation dedicated to supporting and promoting energy transition;
The opportunity to meet and work with energy representatives and experts from more than 30 European countries;
Please send your CV and cover letter to juergen.ritzek(at)ee-ip.org with reference "EEIP communications & project manager" stating why you would apply for this position and how you can contribute to the job.
Two rounds of interviews will be held. Short-listed candidates will be asked to develop a task in relation to requirements of the projects. Applications are open until 31.07.2020. In case of ideal candidate(s), the position can be fulfilled before that date. The first round of online interviews will start in week 30 (wk/c 20.07).
---
About Marianna Santavenere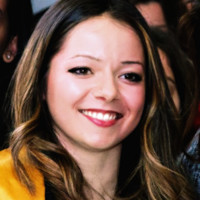 Marianna works as project manager for EEIP. With a background in marketing and intercultural communications, she is responsible for various B2B and B2P communication activities including exploring new channels such as Virtual Reality.