INDUSTRIAL SYMBIOSIS: Business enablers and technology drivers
| | |
| --- | --- |
| Date | 14 October 2021 |
| Details | 14:00 - 16:00 CEST |
| Location | Online |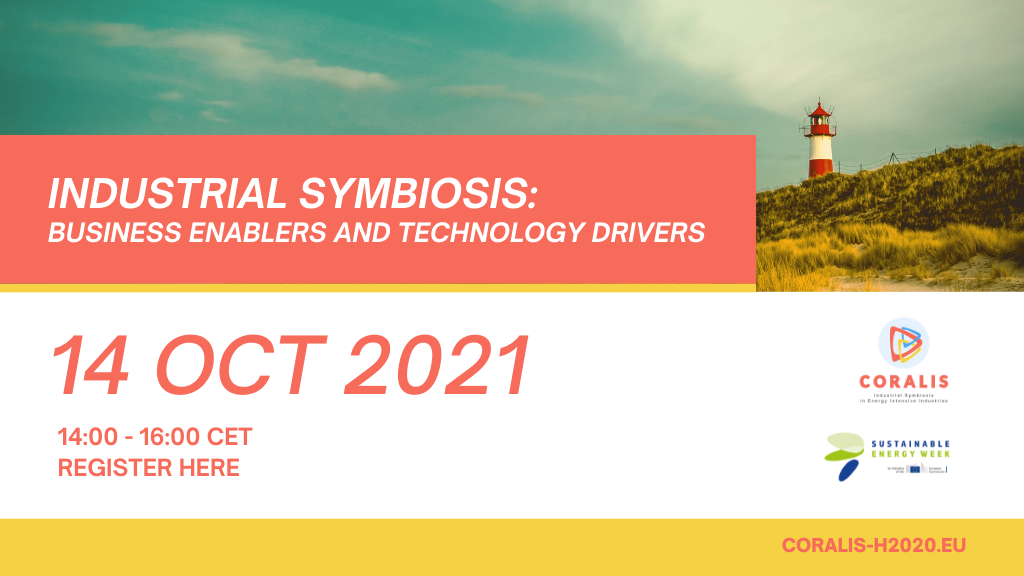 The industrial symbiosis (IS) technology is a very high item in the EU agenda, because of its great potential in terms of energy savings and therefore and the first step towards a more circular economy. But several questions are still pending:
- What is really behind industrial symbiosis?
- How does it work and what does it require?
- What is the business model behind?
- How to finance the technology?
The EU-funded CORALIS project will host its first online dissemination event on 14th October 2021 from 14.00 to 16.00 CET for opening discussions with experts and practicioners from the industrial symbiosis sector complemented by knowledge transfer from industrial associations and public and private finance.
The event is part of the EUSEW 2021 and will aim to demonstrate the viable implementation of industrial symbiosis in three real industrial areas across Europe. More information about the CORALIS project via this link.
Eager to learn more about industrial symbiosis and the CORALIS project?
Please register via Zoom: bit.ly/3my6FBV.
After registering, you will receive an email with instructions on how to connect.
---
Related Content