The EEIP Writer's Network
Welcome to the EEIP writer's page!
Ready to collaborate with one of the biggest international energy transition platforms? Here you can start writing - or contact Eduard Serrat - for becoming a writer if it's your first time!
---
Your benefits about writing an article in EEIP
You will have a high-level visibility and reach new audience through out website and our social media channels (Twitter, Facebook, LinkedIn). We have a network with more than 150.000 users and growing
We aprreciate your hard work and in reward you will have a detailed profile page in our site, with your professional information and interests and all the articles you have published in our platform (see below). Further, in every article published you will have a personalized 'Author Information' box with a link to your site/blog.
Here is an example of an existing writers page.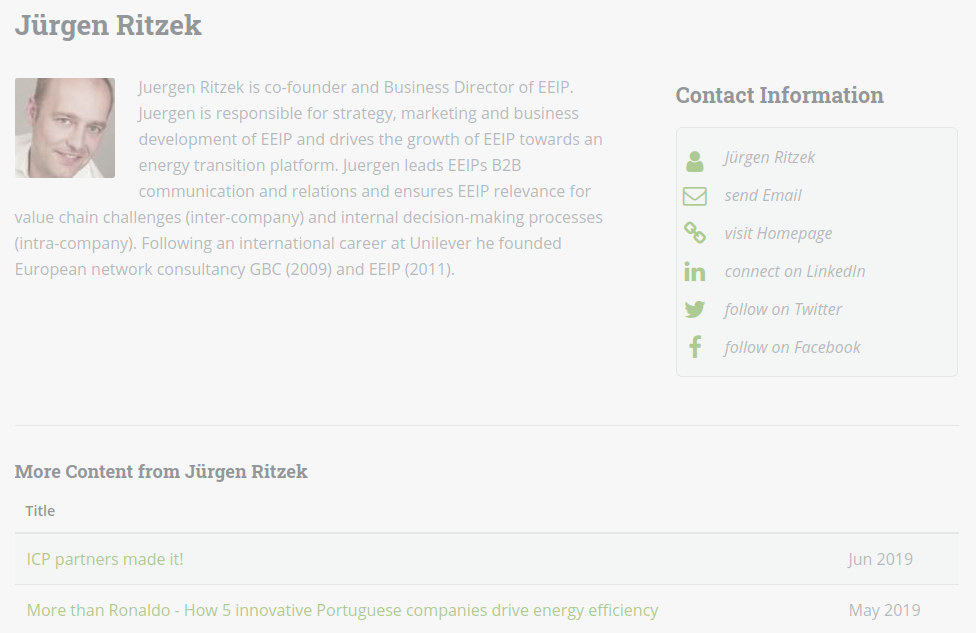 ---
Design and content guidelines:
Your article must cover one (or more) for our main categories, you will find them in our main menu. Articles with no relation with our topics won't be published.
Articles must be genuine and original, if you use information or pieces about other authors, you should mention it properly.
The content must be relevant for our community. We are a decentralized and neutral platform with high quality articles from all over the world.
The article extension should be between 500-1000 words.
You can include images and illustrations that help to explain you ideas. However, the images should be high-quality and minimum size of 700x700.
You can use links in the body of the article that support your explanations.
---
To help and encourage you, here you have some examples of articles published: