The pyramids in Egypt, the Empire State building in New York, and the Tower of Pisa in Italy are all examples of human creations which left an imprint on history. However, today the construction sector is leaving more than buildings behind it. This sector demands the use of nearly 55% of global electricity, contributing to nearly 40% of total global energy-related CO2 emissions. Given its environmental impact, interventions aiming to reduce or optimise the energy use of this industry would help us leave a better mark on the planet. One of these positive interventions is conducting energy audits, as proposed by the EU project INNOVEAS.
Most people dream of having a house. 100x100 Biopasiva is a Spanish company specialised in the construction of biopassive houses and buildings with high energy efficiency and low consumption. Since biopassive implies using only 100% natural building materials, these houses are also a dream for the planet.
Founded in 1994, since then its constructions aimed towards a minimum A energy level, but since 2014 it follows the most stringent energy efficiency standard, the Passivhaus. As Raquel Peláez, Manager at 100x100 Biopasiva explains:
"For our new showroom house, Casa Sophia, we have aimed towards the maximum energy efficiency and achieved the maximum sustainability and health in the building. We obtained several certificates andquality seals for it. First, the PASSIVHAUS PREMIUM, as it will be a positive house that will generate more energy than it consumes. Then, we received the GREEN ENVIRONMENTAL SEAL with all five possible leaves and a 92% score. Finally, we got the RECYCLE and ZERO WASTE quality seals, as we recycle and reuse 100% of the waste from the site."
Due to all these "green" characteristics, this house aims to become the most sustainable house in Europe this year.
In general, the path towards energy efficiency does not appear so challenging after identifying the processes capable of improvement. According to Jure Kristan, Senior Team Manager at Komunala Kranj d.o.o.,
"Energy efficient measures are not that difficult. It is important to first identify the processes and areas that are not efficient and find solutions that would improve the situation. If the proposed solution saves energy and is financially beneficial long-term, there are no issues."
This Slovenian company began its activities in 1990, and since then energy efficiency has been present in its agenda. So far the company has improved its mechanical installation pumps, heating system and installed an energy management system. The company has also changed to LED lighting and uses energy efficient vehicles and produces their own biogas from the wastewater system. Although interventions such as the latter often demand a strong initial investment, there are ways to minimise their economic impact. For instance, the Italian construction company Appennino Building Cooperative calculates estimates and timelines before adopting energy efficiency measures so they can gradually pay off the initial cost, as Massimo Trabucchi, a member of the board of directors, explains. They have adopted energy management systems according to ISO 50 001 standard for saving and reducing energy waste, have performed energy audit evaluations to check the efficiency of their systems and adopted EMAS certification (Eco-Management and Audit Scheme). They now also use electric transportation and have installed solar panelson the warehouses' roofs to allow energetic self-sufficiency.
For all these companies turning "green" has meant not only savings on a valuable resource–energy–and sparing money on the way, but it has also gained them social and industrial recognition. Being awarded renowned industrial certifications and becoming a brand associated with eco-aware construction is a badge of honour that attracts customer attention as well. According to Raquel Peláez from 100x100 Biopasiva,
"Not many years ago we were looked at strangely when we explained that our constructions were made with natural materials, recycled, and of very low environmental impact, and that it contributed to our health. However, now we have accumulated more experience than other companies and, as a result, we are already very well positioned in the market as a healthy and sustainable construction company. This has led to clients directly approaching us."
As in other branches, instilling the importance of energy efficiency started from management positions but expanded throughout the companies until it became part of their culture. For instance, in the Appennino Building Cooperative,
"the research and development team pursues energy efficiency goals in collaboration with universities and research centres. The topics of interest come from the company's top management, in line with the European Agenda and Objectives,"
as Massimo Trabucchi explains. In general, it appears to be easy to find relevant information on interesting topics related to sustainability in this field, even despite the lack of a centralised forum for small-medium enterprises (SMEs) trying to improve their energy efficiency. For Jure Kristan from Komunala Kranj d.o.o.,
"In general, there is a lot of information and knowledge available. This is good and bad, because it makes more difficult to identify the best solutions and get an agreement."
But the European Research Project INNOVEAS will change that soon, says Luisa Sileni from the IIPLE, the Professional Building Institute of Bologna, and INNOVEAS project coordinator:
"In the upcoming weeks the INNOVEAS consortium launches the "Business Alliance for Climate and Sustainable Energy". This network of stakeholders will support European businesses in the adoption of good practices towards net zero by 2050. This alliance is one of the most important results of our 3-year project, because it is high time to offer a support network to smaller companies."
As the goal of the INNOVEAS project is to help SMEs in their green transition with energy audits, "it was a high priority forus to address the construction sector, given the significance ofthe potential CO2 savings that would result from it," as Luisa Sileni explains. All mentioned companies took advantage of this option and agree that implementing interventions aiming towards energy efficiency is not that costly, and pays for itself over time, in terms of social, environmental, and economic return.
For Raquel Peláez from 100x100 Biopasiva, the effort was worth it.
"If we consider that,during these 28 years we have built more than 1000 constructions of all kinds and the associated reduction of CO2 emissions we achieved by building this way, I believe that we have contributed to mitigate the effects of climate change."
Written by Dr. Rosa Garcia-Verdugo
Research by Sabine Alexandre-Klein/ Corinna Hackenbroch
---
About Sabine Alexandre-Klein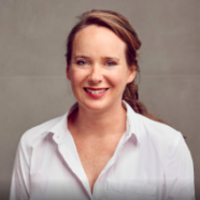 Sabine Alexandre-Klein works as a Project Manager and Science Communicator at the European Science Communication Institute (ESCI). She holds a Diploma in Roman and German Literature and worked for many years as a Press Officer in the Renewable Energies. Sabine started working in EU project communication and management in 2018.
---
Related Content