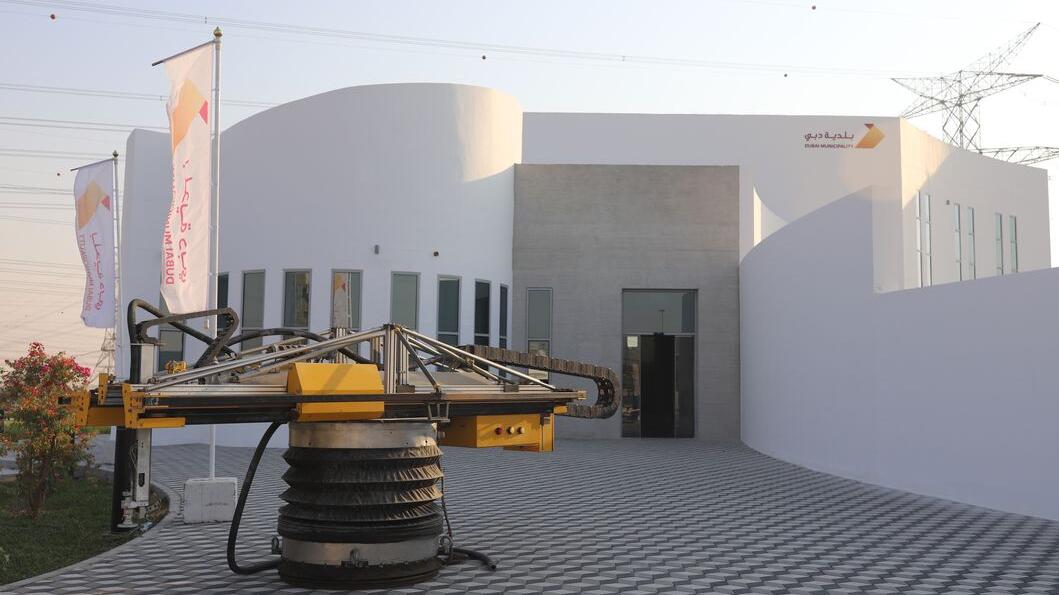 Additive manufacturing, or 3D printing is about to change the way buildings are constructed, at least in Dubai, that is. This United Arab Emirates city recently announced a 3D printing strategy to make it a leading hub for additive manufacturing in construction.
Stated Sheikh Mohammed bin Rashid Al Maktoum, Ruler of Dubai, "Our key goal is to ensure that 25% of buildings in Dubai are based on 3D printing technology by 2030, and we will raise this percentage with the development of global technology as well as growth of market demand. We believe that this technology is capable of transforming the construction sector by lowering costs and reducing the time it takes to implement projects."
In 2016 we had the first 3D printed bridge built for pedestrian traffic in Spain. In January of last year, Shanghai introduced what is currently the longest 3D printed concrete bridge in the world. And in Eindhoven, The Netherlands, this year the first of a group of 5, 3D printed houses, was completed. These early projects are proving the advantages of 3D printing in construction. Lower labour costs, and faster results.
Here is a comparison in building with concrete.
The traditional way involves skilled workers creating one-off wooden forms to create building walls and structure. Concrete is then mixed a poured into these forms. Once the concrete hardens, the forms need to be disassembled. Typically, the wood may only be used once depending on the complexity of the building design. That means a lot of waste material which comes at a cost.
The 3D printing way uses a robotic arm set on guiding rails connected to an "ink" feed. that receives instructions from a computer system containing the 3D image and detailed specifications for the building. The robotic arm has a nozzle contacted to an ink feed, a quick-setting concrete slurry that is placed with precision where it is required by following the instructions received from the computer-generated specification. A 3D printing construction system needs very few workers to operate. In fact, it can operate autonomously. The construction process is an assembly of layers. No forms are required. No one has to mix and pour concrete. And there is no waste. A small building can be erected in a day, a larger one in a week or two. And the 3D printer can use different 3D specifications fed to it, to create other structures. Even the "ink" used by the 3D printer can vary depending on local material availability.
Sounds like an industry game-changer? Many in construction are convinced it is. Put the 3D printer on a flatbed and you can move it almost anywhere and construct almost anything. An Austin, Texas-based construction technology company, Icon, has a Vulcan II 3D printer that is building homes up to 185 square meters (2,000 square feet). It has built the first 3D-printed community in Mexico.
In Dubai, 3D printing will not be limited to construction. The Emirate city also plans to use the technology for medical and consumer products. The medical will focus on printing bones, teeth, surgical devices, hearing aids, and artificial organs. The consumer side will develop household items, optics, jewelry, and even fast foods.
Dubai expects to reduce average building construction costs by 50 to 70%, and labour costs by as much as 80% with 3D-built structures. And construction waste should be reduced by as much as 60%.
The Emirate believes the 2020 market for 3D printing will be $120 billion USD and $300 billion by 2025. It wants to cut for itself a big piece of this 3D-construction multi-billion dollar pie.
In December 2019, Dubai announced that it was home to the world's largest 3D-printed building, constructed in two weeks. This 650 square meter (almost 7,000 square foot) building made from concrete and gypsum "inks" was assembled at a daily rate of 93 square meters (1000 square feet). Throughout the construction, it was able to withstand the extremes of heat and cold of the Arabian peninsula's desert climate, as well as its extreme humidity. The 3D printer used was mobile and about the size of a standard automobile. The structure required only three workers and one construction crane for use in installing windows, the roof, and rebar supports inserted into the 3D-printed concrete walls. The building is being used for city administration.
Author: Len Rosen
Image credit: Apis Cor
This article was previoulsy published 21centech.com
---
Related Content